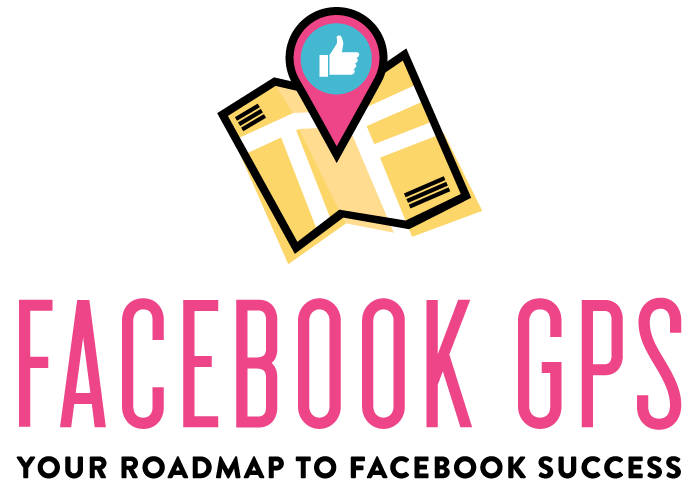 What if I told you that Facebook actually doesn't hate you and if you tap into it correctly, it can become your very best friend?
Would you believe me?
If you have your doubts, you are not alone. The truth is, Facebook doesn't hate you. Far from it. You just have to understand what it wants from you.
Do you relate to this?.....
Facebook is a waste of my time. You feel like you are talking and hearing only crickets. You are posting amazing content (or you at least feel it is amazing) and no one responds. No one. Well, except for your mom. Cuz, let's face it, moms are proud and will like pretty much anything we post.

You believe that you have to pay to be seen. You post and see that little boost button and believe that Facebook is holding back on pushing that update, unless you hand over your credit card.
Only big pages can be successful. You follow large pages that have hundreds (if not thousands) of likes and know that your small little page with 50 likes will never get that same reach. Ever.
Your content doesn't belong on Facebook. You see nothing but DIY, recipes and funny memes on Facebook. You think that what you want to share will never gain any traction or visibility because it just doesn't belong.
If you find yourself agreeing with any of these statements then you've landed at the right place. There is a way to change the way you look at Facebook.
If you have all but given up on Facebook, you are missing out on a great marketing tool. Sure, it will require some work on your part, but if you can put fort the effort, you will see great rewards.
Imagine if you will, the perfect Facebook world, where the following happens......
Your posts get seen. And, not just seen, but seen and shared by thousands of people.
People engage and share your posts. When you put out new posts, your fans are waiting and want to share what it is you have to say.
You are seen as an authority in your niche. Readers (and bloggers alike), swoon to your page because you will have the latest, most helpful ideas.
Increase your income from your page. Your Facebook page is more than a place to share funny photos, it is a way to dramatically increase your income.

You know what to post and when to post it. How amazing would it be to really know what to share with your fans and the time of the day to do it?
Spend less time working on Facebook. What would you do with all of those hours during the week? You can still run a successful page without being married to your computer 24 hours a day.
This doesn't have to be a dream. This can be your reality. You just have to learn how to leverage Facebook and your page to make it work for you.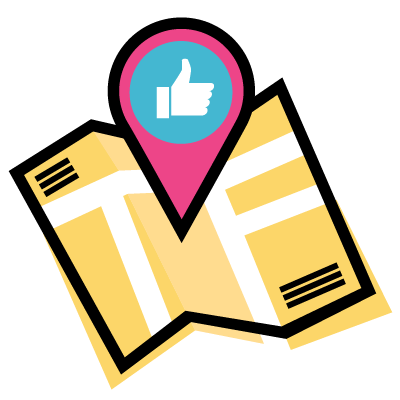 The Facebook GPS course is a roadmap to success. I will share with you the techniques and ideas I used to grow my page to more than 625,000 fans - all within a short period of time.
Here's proof that I was in your shoes once before. This is a time hop that showed up in Facebook for me earlier this year.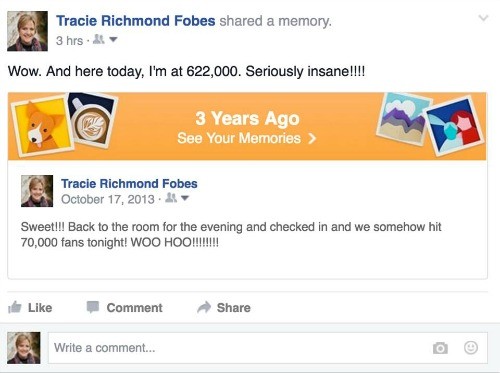 That was October 17, 2013. I hit 70,000 fans. By the end of that year, I had more than 100,000 fans. The number kept rising.
In August 2015, we reached 500,000 and it has continued to increase. In just 2 months, we've added another 15,000 fans to our page.
And, the cost for me to do all of this:
ZERO. ZILCH. NADA.

I've not paid to get a single like to my page. Everything I did was done organically. I've run a few ads, but those were not to my page to get likes. Those were for other traffic events directly to my site.
It is possible folks. I'm proof that this works.
WHAT WILL THE COURSE TEACH ME?
The class is broken into Eight Modules

MODULE 1 - YOUR FAN
Learn how to figure out who you want to reach. A clearly defined audience helps you determine the type of content they will crave.
MODULE 2 - YOUR FACEBOOK PAGE
You never get a second chance to make a first impression. Learn the keys to setting up your page the right way (and what to change to make yours even better).



MODULE 3 - YOUR CONTENT
Content is King. That is what will get people to your page. But, it has to be the right content, shared in the correct way. Learn where to find the content to share and create an effortless Facebook schedule.
MODULE 4 - ORGANIC GROWTH
No one likes to spend money. I get that. And the, truth is, you do not have to pay a penny to grow your page. You can do so using proven natural and organic methods.

MODULE 5 - REVIVING YOUR PAGE
Learn how to bring new life to a under performing page. Ideas that can work so you don't have to start over from scratch.


MODULE 6 - PAY TO PLAY
While no one wants to really pay Facebook, there are times when it can be a good investment for your page. Get my secret trick to ensuring your ad attracts the right people for higher clicks at a lower cost.
MODULE 7 - FACEBOOK FOR PROFIT
We all want to make money and Facebook is the perfect platform for you do just that. And, it isn't just traffic to your site. Learn how to leverage your fans and get them buying -- putting money into your pocket.
MODULE 8 - ANALYZE WHAT WORKS
There is no point in doing any of this if you do not track and analyze your progress. Find out my easy way to figure out what works for your individual page.
Your Instructor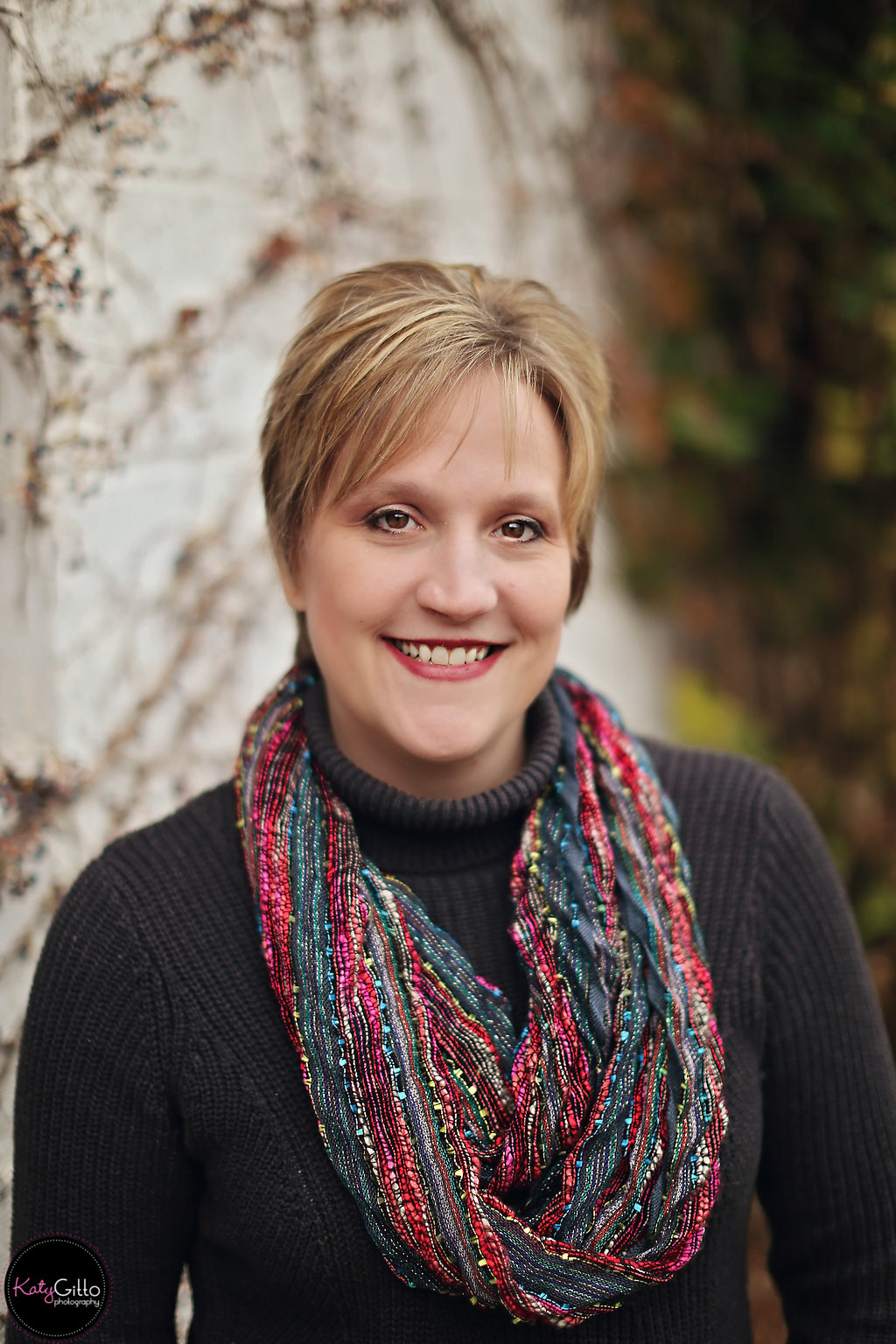 Hi there! I'm Tracie! I started blogging in 2009. Over the years I've turned a blogging idea into a thriving business that earns my family five figures month after month. We've been able to pay off our debt of more than $37,000, purchase two vehicles and even remodel our house - all because of the income I have made from my blog.
It wasn't easy. When I started, there was no one there to help me. I had to figure it out on my own. I remember emailing bloggers asking for help and received no responses. As things came together for me and I figured out how to do things, I vowed to never let another blogger feel like I did.
That's why I'm doing this. I want to give you the information you need to be successful - right from the start!
Click the button at the bottom of the page and get signed up!! I can't wait to help you on your blogging journey!
Frequently Asked Questions
When does the course start and finish?
The course starts now and never ends! It is a completely self-paced online course - you decide when you start and when you finish.
How long do I have access to the course?
How does lifetime access sound? After enrolling, you have unlimited access to this course for as long as you like - across any and all devices you own.
What if I am unhappy with the course?
Well, I certainly don't want that! Since it takes time to see results when implementing the changes, we offer a full 60 day money back guarantee.
Isn't this information available to me for free?
To be honest, you can find all sorts of information on various blogs and website, but does it mean there is value attached to it? The truth is that anyone can write a post about Facebook, but that doesn't mean it works. And, to be honest, much of what you find is outdated. It is also only one idea that may or may not work for you. This course will be continually updated with the most recent information available. So, if you see a change to the algorithm or features, rest assured that I'm on it and we'll be updating the course to make sure you have the most recent information available.
ARE THERE ANY BONUSES?
OF COURSE!!
Worksheets. Lessons come with printable worksheets to guide you through completion. These will be your own printable roadmap to ensure you don't miss any important steps along the way ($25 value).
Facebook Group Access. We have a private Facebook group for all of our class participants. You will be able to connect with other students and support and help one another. Best of all, you will find other bloggers in your own niche with whom to network. ($100 value)
Private Coaching. I'm also in our Facebook group and will be right there with you. You can ask questions and get answers from me directly. We'll even hold regular chats so you can visit with me directly to ensure that you are getting what you need from the course.
What are you waiting for? Sign up now and get started putting Facebook to work for you!